Most of my kiddos need continuous practice with money. I think the best way for them to get continuous practice is to make it part of their daily routine. Last spring I began rewarding my students with coins as they completed work and if they had good behavior. The only problem... I didn't have any criteria or a rubric to grade them on. I was basically giving out (per kiddo) 10 cents a day for a good day and if they finished all their work, 5 cents if it was alright and tried to work, and 1 to zero cents if it was really bad and they refused to work. The students would use their money to purchase something out of the treasure box (which I would love to show a photo of...but I can't find one & the box is at school!). The students need help counting money and figuring out which items to purchase which could end up taking 20 minutes for all students to choose an item from the treasure box. Some figured out how to 'save' and get what they wanted and others would just get angry if they didn't have enough money but they didn't want to save.
Now that I've had the summer to review this system, I've come up with a better token system for my students and hopefully teach them how to use money and increase good behaviors at the same time! With these new additions, my behavior system will work more efficiently than last semester. (fingers crossed)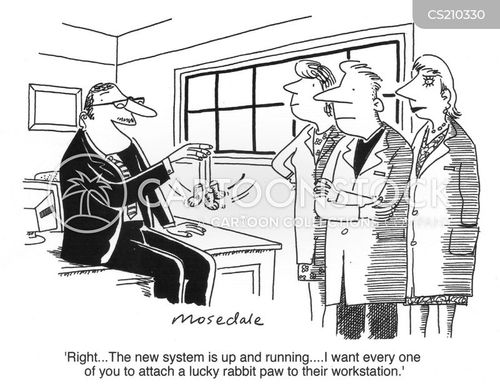 http://www.cartoonstock.com/directory/n/new_systems.asp
First, I will be implementing a self-check participation system. Students will have a goal (# of times to participate) for each station. They can answer a question, point to a picture, use a communication device, etc. The staff will give a check for each time they participate. If their goal is to get 5 checks, we document once they have achieved this goal. Over the year we can increase participation checks to have students more involved.
I'm also adding a class wide 'bank' similar to the
autism helpers' system
. Students can donate to the class wide bank in order to obtain a class party/game/activity and the class as a whole can earn coins from the staff for additional good behavior.

At the end of the day my students will be required to have their take home folder stamped by a staff member. This reflects their overall day. After their folder is stamped, they get paid! A stamp on Excellent=5cents, a stamp on Good= 3cents, a stamp on bad=1cent.
The students save their money until Friday when they can go shopping. Students can use their money 3 different ways: 1) They can choose to purchase something from the treasure chest, 2) donate to the class or save until next Friday.
In the treasure box, items will be broken up into prices (hopefully I can adjust prices to give students a chance to differentiate counting coins). Items will be priced as 5 cents, 15 cents, 25 cents and 1dollar. I've created the following coin visuals for my students to lay out their money and figure out which colored container they can pick an item from.